Tour de France Fantasy Pool
Tour de France Fantasy Pool
For the last few years I've participated in a friendly Tour de France fantasy pool with some friends. We get together, have a barbecue, and pick teams of riders. It's very much like fantasy football or baseball teams. Each team pays $20 to enter, which goes to the winner (naturally). However, the winner is obliged to use that money for a party after the Tour, so everyone wins in the end.
Some years ago an Excel spreadsheet was written to help calculate the scores. It's kind of clumsy and surprisingly un-automated. So I threw together a Python script in an afternoon which is much more automated and puts the results on the web for easy viewing.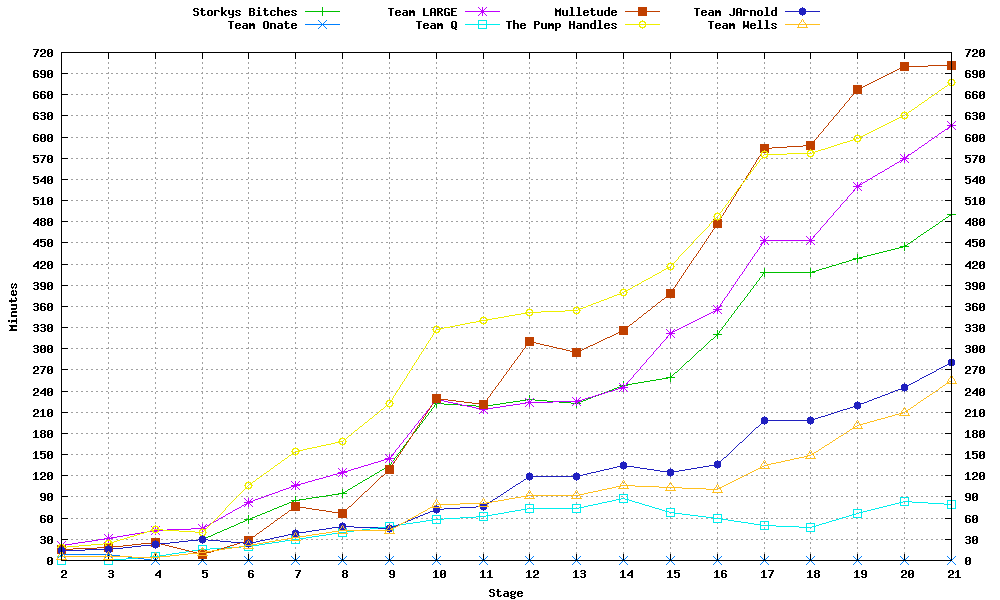 Above is the graph of how each team is doing as a function of stage. Along with three friends I formed two teams, "Storky's Bitches" and "The Pump Handles." Neither names were my first choice; I blame Kris Wells. I've never done very well at the Tour Pool, and it's looking like this year will be no different. Of course, it's early, so things may change.
Take a look at the full results page, and check back each day throughout the Tour to see how things are progressing.